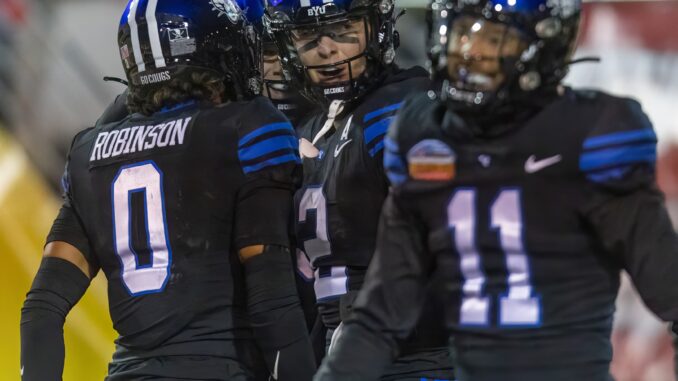 New Mexico- BYU took the win over SMU in the New Mexico Bowl 24 – 23 by stopping a 2 point conversion with only 8 seconds left in the game. SMU's 2 point conversion attempt was a winner takes all situation but SMU's Tanner Mordicai came up just shy of the goal line when he was tackled by BYU's Jakob Robinson.  This tackle decided who came away as the New Mexico Bowl winners.  At the end of the game BYU head coach Kalani Sitake stated "I'm happy for our guys.  Nothing warms your heart like a win."
BYU's Sol-Jay Maiava-Peters led the offense to 256 total yards, 209 rushing and 47 passing in his first career start. Sol-Jay Maiava-Peters scored BYU's first touchdown of the game, followed up by Ben Bywater's interception which was returned for BYU's 2nd touchdown.   Christopher Brooks put more points on the board with BYU's 3rd and final touchdown of the game. Jake Oldroyd kicked 3 successful point afters and 1 successful field goal at 31 yards.
Tanner Mordecai led the SMU's offense to 389 total yards, 171 rushing and 218 passing. Roderick Daniels Jr scored SMU's first touchdown of the game, Tyler Lavine ran the ball from the 3 yard line for SMU's second touchdown, and Jordan Kerley had an amazing touchdown catch with 8 seconds left in the game which brought SMU within 1 points of BYU. Collin Rogers kicked 1 field goal at 35 yards and 2 point after goals.
BYU finished the season with a 8-5 season and SMU with a 7-6 season. Both teams are looking forward to next season but BYU will be joining the Big12 conference which will surely produce an exciting season for them.