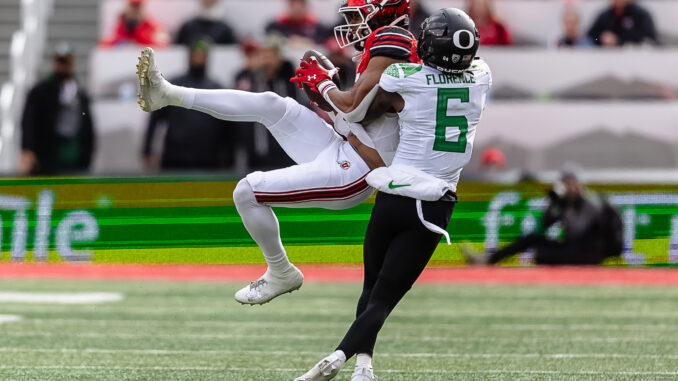 SALT LAKE CITY, UT – In a showdown that was touted as one of the season's defining moments, No. 8 Oregon left no room for doubt as they dispatched No. 13 Utah with a resounding 35-6 triumph at Rice-Eccles Stadium. The result was not just a victory but a statement – a declaration of Oregon's football prowess.
The game got off to a quirky start with an early delay of game penalty, but that was the last semblance of disarray seen from the Oregon Ducks (7-1, 4-1 Pac-12). They found their rhythm with an uptempo offensive strategy that had the Utah defense constantly on the back foot.
Quarterback Bo Nix orchestrated a near-perfect opening drive, requiring a mere six plays to breach Utah's defense. A mighty 16-yard rush by running back Bucky Irving set the stage, with Nix himself finishing the job with a 1-yard rushing touchdown.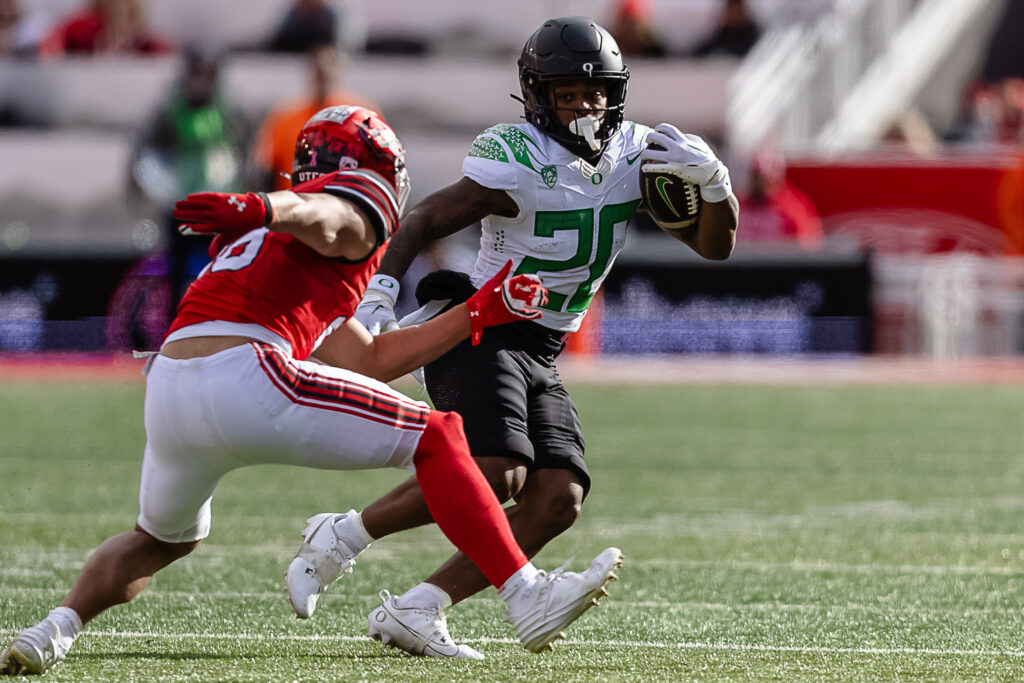 It was as close as Utah (6-2, 3-2 Pac-12) would get to competing in a game that was expected to be a fierce battle. ESPN College GameDay had rolled into Salt Lake City with great anticipation, but it was Oregon that had the firepower to rise to the occasion.
Utah's head coach, Kyle Whittingham, spoke candidly about the game's outcome, saying, "Not a lot of positives in that game for us. That's as thoroughly and soundly we've been beaten in a long time, particularly at home here."
Oregon further extended their lead in the first half with two more dazzling scores. An 18-yard touchdown pass from Nix to Jordan James was the first, showcasing the precision of the Ducks' passing game. The second, a 3-yard toss to Troy Franklin, had Nix nimbly evading a Utah defender before delivering a pinpoint pass.
Nix's performance underscored his status as a Heisman Trophy contender and the nation's most accurate quarterback in terms of passing completion percentage.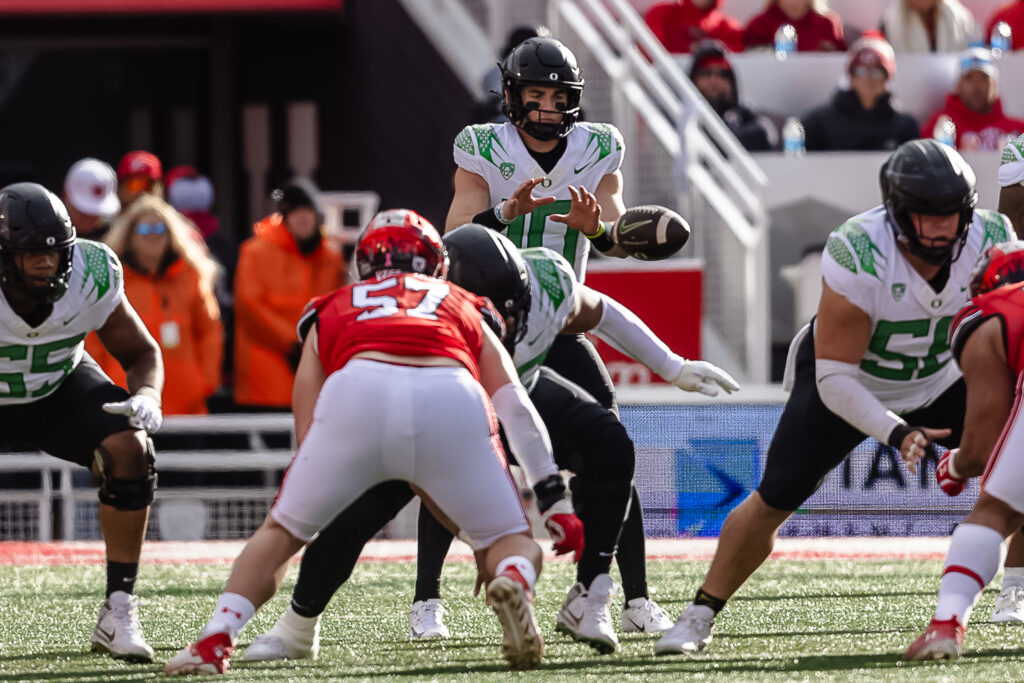 Despite a forced fumble and recovery by Utah's defensive tackle, Junior Tafuna, and a 32-yard field goal by Cole Becker, the Utes couldn't establish a foothold in the game. Oregon, which punted twice at the end of the first half, made halftime adjustments and resumed their scoring spree in the second.
A 12-play, 76-yard drive culminated with a 9-yard rushing touchdown by Irving, pushing the Ducks' lead to 28-6. The Utes briefly attempted to ignite some momentum with a creative play involving a catch in the end zone by Mikey Matthews, who then executed a lateral pass to Dijon Stanley for a 49-yard return. However, Utah's quarterback, Bryson Barnes, threw an interception on the ensuing drive, allowing Oregon to add another touchdown.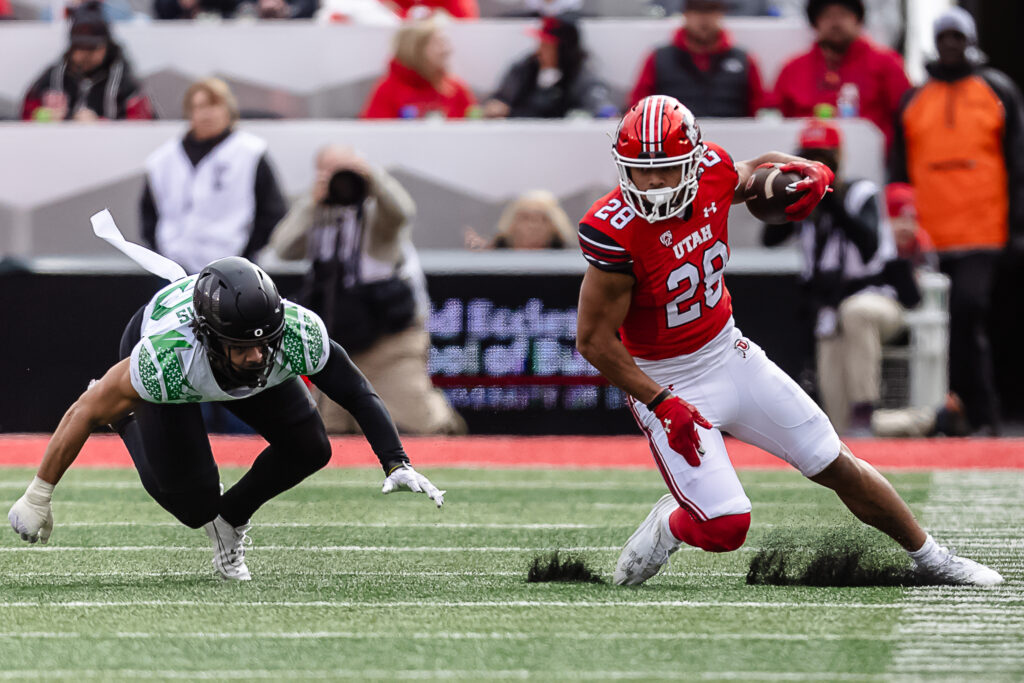 Traeshon Holden's 5-yard dash into the end zone sealed a five-play, 52-yard drive, effectively putting the game beyond reach.
Bo Nix closed the curtain on this spectacle with 248 passing yards, two touchdowns, and a 1-yard rushing touchdown to his name. On the flip side, Barnes, who was tasting his first loss as a starter, completed 15-of-29 passes for 136 yards while suffering two interceptions.
The game left a profound impact on the Utah fans who braved the cold and windy conditions, as many started heading to the parking lot before the final whistle. In contrast, the Oregon Ducks left a lasting impression on the college football landscape, emerging as a force to be reckoned with.
This clash, anticipated for its competitiveness, ultimately belonged to Oregon – a commanding, confident, and thoroughly dominant force in the world of college football.